Bluebay Grand Esmeralda Hotel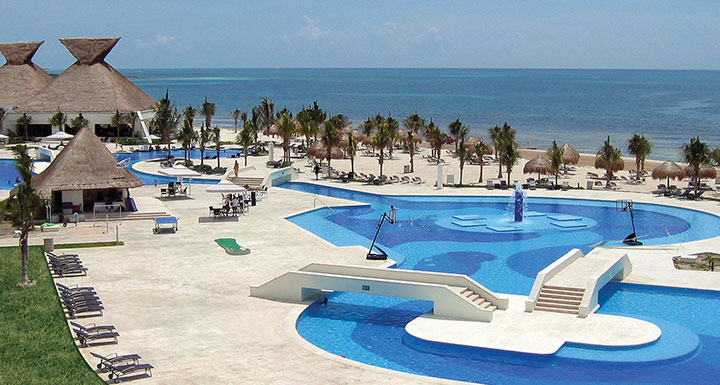 The Bluebay Grand Esmeralda is our host hotel. All talks will take place there. The hotel has offered the following room rates for LAGOS's participants:
| | |
| --- | --- |
| Single Room: | 1,380 MXN (108 USD approx) per night, per person. |
| Double Room: | 950 MXN (75 USD approx) per night, per person. |
| Extra person in Double Room: | 820 MXN (64 USD approx) per night, per extra person. |
This is an all-inclusive resort; the fee includes meals and bevarages (including alcoholic drinks).
Please make your reservation by
February 28
. The special prices for the conference may not be available after that day.
To place your reservation please send an email with the following information to Talina García ( grupos.esmeralda@grupobluebay.com ).
Subject:
RESERVACION PARA GRUPO LAGOS 2013, CODIGO: 38933.
Name:
Name of companion:
(if any)
Number of guests:
Check-in date:
Check-out date:
Number of nights:
Bed arrangement:
One or two beds (subject to availability).
The hotel requires payment for the total amount of your stay. You may pay by credit card or by bank transfer.
Credit Card.

Fill the credit charge authorization form . Send the form, a copy of your credit card, and an official ID (scanned on both sides and clearly readable) to Talina García.

Bank Transfer.

The transfer must be in mexican pesos and payable to PUNTA SYROS S.A. DE C.V.. The bank account information is as follows.

Bank Name: BANORTE
Account number: 072 691 00669182400 7
SWIFT Code: MENOMXMT
You must also put your name in the transfer and send the corresponding voucher by email in order to properly identify your payment.

Note:
The hotel will issue one invoice with data exactly as in the reservation on the departure day. It will not be possible to split one invoice for two people. In case of doubt, please specify at reservation time. Once you pay the reservation, it will not be possible to make changes in the system.
Cancelation Policy:
Cancelation within 120 - 90 days of anticipation: 25% penalization fee. Cancelation within 89 - 60 days of anticipation: 50% penalization fee. Cancelation within 59 - 30 days of anticipation: 75% penalization fee. Cancelation within 29 - 0 days of anticipation: 100% penalization fee.
No Show Policy:
The whole stay will be charged in case of no-show.