Playa del Carmen
What to do
Yucatan is a state of abundant natural resources within a privileged geographic location, vast coastal areas and a priceless natural, artistic and archaeological heritage, crowned by its emblematic Chichen Itza, one of the seven new wonders of the world.
Chichén Itzá
| | | |
| --- | --- | --- |
| Chichén Itzá, is located 120 km from Merida via federal highway 180 in the State of Yucatan Mexico. The name Chichen Itza is derived from the Mayan language: "Chi" - mouth, "Chen" - well and "Itza" - the tribe that inhabited the area. It is the most visited archaeological site in the peninsula of Yucatan, due to its extraordinary architecture beauty and its geographical location. The entire complex lies out along strict astronomical lines and seems to have served as a giant calendar or cosmic clock. The Observatory is a domed building which is famous for it's incredibly accurate modern astronomical information. Among other buildings are the Temple of the Thousand Columns, and the fantastic pyramid of Kukulcan. Visit the amazing Ballcourt where you can speak to your friends a football field length away with a whisper! Chichen Itza is inland and considerably warmer than Cancún; dress accordingly and take water! | | |
Tulum
Tulum holds the honor of being the most picturesque archaeological site in the Riviera Maya and the only one to have been built overlooking the ocean. A visit here offers spectacular views of the Riviera Maya beaches, Caribbean Sea and surrounding coastal region.

Tulum was an ancient Mayan fortress city that rose to power toward the end of the Classic period. The most iconic of its structures, the Castillo, is perched on the edge of a cliff overlooking the clear turquoise blue waters of the Caribbean. The cliff-top Castillo, with its beachfront location and lush green landscape, is the image most often associated with the Mayan Riviera. You've probably seen the postcards.
An expansive walkway extends out around the ruins and a staircase nearby leads down to the beach where you can swim and sunbathe. Tulum is one of the few archaeological sites in Mexico where it really does make sense to bring a swimsuit. The best way to experience Tulum is to combine a tour of the ruins with some beach time—maybe even a refreshing dip.
Xcaret
| | | |
| --- | --- | --- |
| Xcaret - pronounced "eesh-ka-ret" - is a combination water park and outdoor natural museum the developers have dubbed an "eco park." Located on the mainland, just a short ferry ride from Cozumel, Xcaret offers a variety of water-themed experiences from snorkeling to river riding, natural exhibits showcasing Yucatecan flora and fauna, plus museums and folkloric shows that open a window to Mayan culture. It is an ideal day trip for visitors who want to experience the Yucatan's natural wonders. | | |
Xcaret offers visitors an opportunity to enjoy the Caribbean waters without being exposed to the dangers of rip tides, much as the Mayans have over the centuries, bathing in the inlet's warm, shallow waters. A coral reef shelters the entrance to the inlet and is ideal for snorkeling. Natural whirlpools are fed with gently swirling ocean water. A subterranean river, its path enhanced by humans and open to the jungle in spots, offers visitors a slow, cool ride. Visitors also can rent scuba gear and explore several caves in the park.
Coba
Coba is an undeveloped archaeological site deep in the Yucatan jungle. Temperatures are usually hot and humidity is often very high. Limited tourist services are available there, so plan to bring water, mosquito repellant, a hat, and sturdy shoes because the trails are not paved and the site is big.

The site consists of a large complex of ruins, only a small portion of which have been cleared from the jungle and restored by archaeologists. The Nohuch Mul pyramid is 42 meters (138 feet) high, and is the tallest Mayan structure in the Yucatan and the second highest in the whole Mayan world [actually four of the six main temples at Tikal are taller and El Mirador boasts the El Tigre and La Danta pyramids, which are both considerably taller than the Nohuch Mul pyramid]. There are several other buildings of interest including several temples, an ancient gallery of carved stelae, an astronomical observatory, and a ball court.
One of the most archaeologically interesting features of Coba is the network of elevated roads that emanate out from the city towards other Mayan cities. These roads, called sacbeob ('sacbe' sing.) are thought to have been their equivalent to an interstate highway system, enabling easy transportation throughout the Mayan world.
Buildings at Coba are clustered in groups, such as the Grupo Coba, Grupo Nohuch Mul, and Grupo las Pinturas.
Cozumel
| | | |
| --- | --- | --- |
| Cozumel is a Caribbean island just off the Yucatan Peninsula in southeastern Mexico. It has great beaches, nice people, and safe streets, with prices comparable to other Mexican tourist destinations. A day trip to Cozumel Island is an ideal way to discover one of México's vacation treasures. In Playa del Carmen you can board a ferry for the cruise to Cozumel. The entire tour is yours to do as you like. You can shop or explore the limpid waters of Chankanaab, where you can swim and snorkel among the coral reefs and schools of colorful tropical fish. Diving can also be arranged for certified divers. An exciting day to visit another world. | | |
Snorkeling Tours
There are four main tours destinations for snorkeling besides the Tulum - Xel ha tour: Punta Nizuc reef, El Garrafon park on Isla Mujeres, Puerto Morelos, and Chankanaab park on Cozumel. The best is the reef of Puerto Morelos, recently declared a national park to protect the marine creatures that make their home among the corals. Cozumel remains very good for snorkeling. Most trips include round trip transport, drinks, lunch, snorkel gear.
Jungle Tour
Enjoy this exciting 2:30 hrs tour across the Nichupte lagoon & the mangrove forest, where you get to drive your own two-person speed boat. Head for the open ocean to Punta Nizuc, a section of one of the longest coral reefs in the world, where there is a stop for some swimming, snorkeling and sunbathing before heading back to the marina. Many daily departures.
Swim with Dolphins
There are several swim with the dolphins programs. One is at Xcaret, the others, around Cancún or on Isla Mujeres. Most are similar, and about one hour long and is divided in two parts. During the first part, swimmers watch an educational video about dolphins and receive an orientation on how to swim with them. The second part is the actual swim and lasts a little over half an hour. During this time swimmers will participate in structured behaviors and free swim time. Structured behaviors consists of activities such as dorsal tows, foot's pushes, swim-bys (petting) and dolphin jumps.
Aqua World
Located at Km. 15.2 Ave Kukulcan. This marina is an all-purpose recreation center offering deep sea fishing, jungle tour, diving and snorkeling excursions and more! 85-2288 Boulevard Kukulkan at 7.5 kilometre marker, Hotel Zone, Cancún.
Isla Mujeres
Caressed by trade winds, blessed with sparkling, white sand beaches and surrounded by clear, turquoise waters, Isla Mujeres translates to Island of Women. According to lore, the Mayan warriors hid their women and children here to protect them during the invasions of the Spanish Conquistadors over 500 years ago. Inhabited long before the resort of Cancún was established, today she is a day destination for Cancún vacationers. About an hour by boat from Cancún, Isla Mujeres offers visiting a beautiful Mexican village, snorkeling at El Garrafon, motor bike rentals, and more. Isla Mujeres is also the destination for many of the tours featuring beach parties. Many tours of all description depart daily, but you can also take water taxis that depart regularly, or the native ferries, and then wander on your own. The snorkeling is at the opposite end of the island from the village, so a visit there requires a tour, a taxi ride, or renting a motorbike.
Folkloric Ballet
Several available. Be touched by the hearts, souls, and rhythms of Mexico from the comfort of the World Class Convention Center. This dynamic dance production capsules the humanities of a proud and creative country. Includes welcome cocktail, Regional costumes fashion show, Mexican buffet dinner, live music. Convention Centre, Boulevard Kukulkhan, Cancún.
Convention Centre Museum
National Institute of Anthropology and history. Exhibits genuine pieces from the ancient Mayan culture in Quintana Roo. Convention Centre, Boulevard Kukulkan, Cancún.
Museum of Popular Art
Museum dedicated to México's craftsman and their colorful masterpieces. At the Embarcadero, open 11 AM to 11 PM.
Ruinas Del Rey
Dive deep into the mystery of the Mayas at this small archaeological site located at the end of the Cancún's Hotel Zone towards Punta Nizuc. The tranquility of the ruins makes them an ideal place to take a stroll.
(images were taken from wikipedia)
http://www.visitmexico.com/en/tulum-ancient-mayan-fortress-in-riviera-maya
http://www.explorandomexico.com/state/30/Yucatan/
http://traveltips.usatoday.com/cozumel-xcaret-tour-18157.html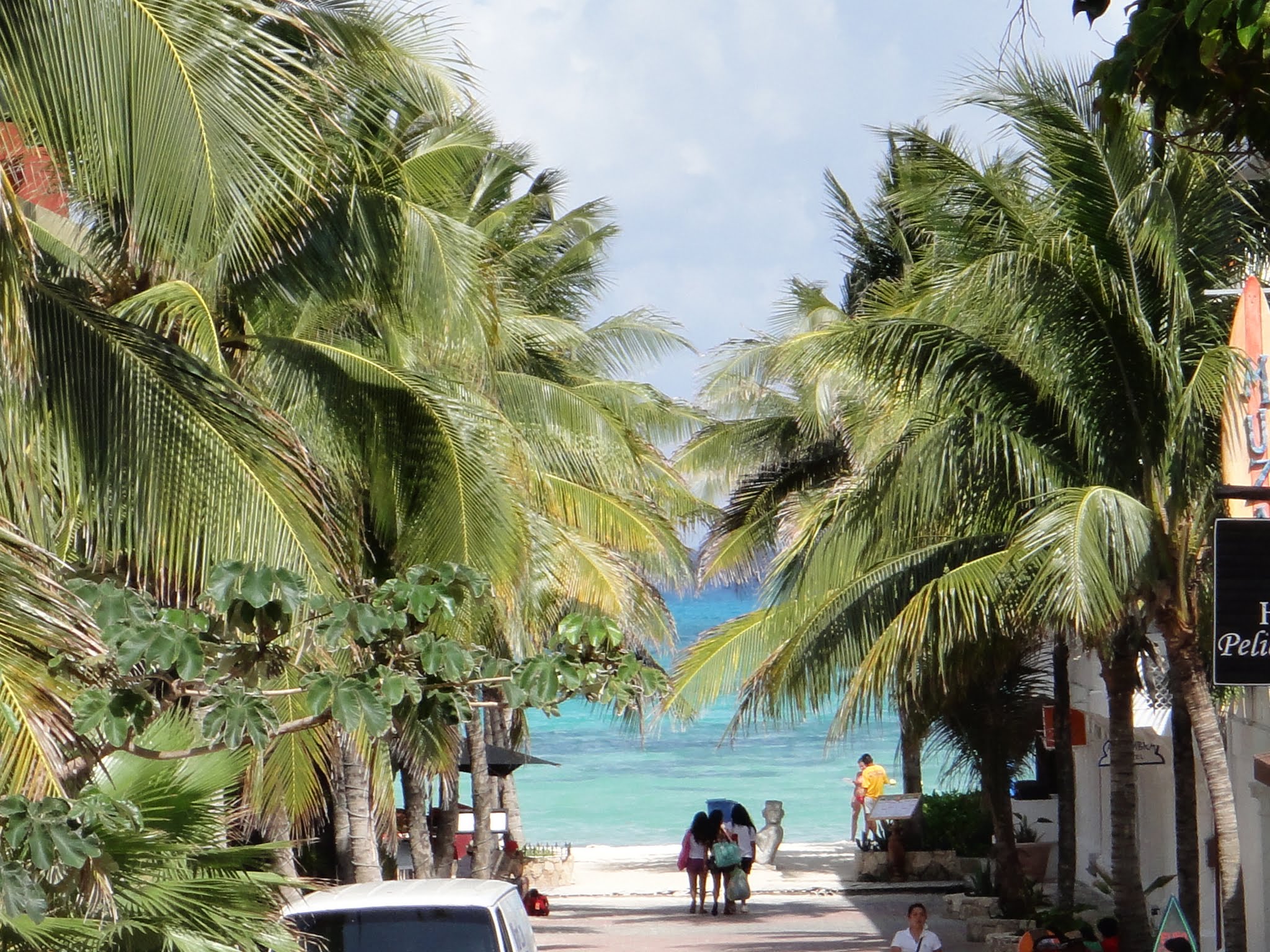 View
Playa del Carmen
in a larger map